The 17th Conference of China Investment Casting convened in Dongying City, Shandong Province, China from the 18th Oct 2023 to the 20th Oct 2023 .380 investment casting-related enterprises and 800 meeting personnels participated in the conference from across the nation.
| | |
| --- | --- |
| | |
|  Openning Ceremony | Openning Ceremony |
Established in 2004, as one of the earliest investment casting manufacturers in Dongying , Dongying Kelin Precision Machinery co.,ltd also participated in the conference. The company had the chance to exhibit his lost-wax investment casting, cnc machining and stainless steel surface polishing processes as well as his investment casting products during the conference.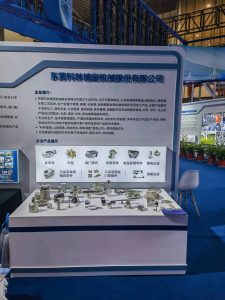 Exhibiting Stand Of Dongying Kelin Precision Machinery Co.,ltd
The theme of this conference is " High quality Development of China's Investment Casting Industry Under the dual Domestic and International demand circulation". Domestic and International guest and speakers discussed and presented topics on "Domestic&International Market Environments" "Emission Reduction" "Technical Exchange" "Process R&D" and "Applied Cases in Investment casting" etc.
| | | |
| --- | --- | --- |
| | | |
| Investment Casting Technical Forum-Defect Solving Discussion |  European Investment Casting Market Trend |  European Investment Casting Market Trend |
In the mean time, the investment casting material and equipment exhibition was held. The exhibition features latest progress in innovation and development in the investment casting upper-stream supply chain such as investment casting wax, ceramic cores and automated production equipments. 220 enterprises from the upper supply chains of the investment casting industry joined as exhibitors. 55 enterprise from Dongying including investment casting foundries and upper stream suppliers exhibited. The exhibition area covered 10000 square meters and received a total visitor of more than 10000.
| | | |
| --- | --- | --- |
| | | |
| Investment Casting Equipment Exhibitor | Investment Casting Material  Exhibitor | Investment Casting Foundry Exhibitor |
This annual conference was hosted by the China Foundry association and co-hosted by the investment casting association branch of the China foundry association and People's Government Of Dongying District.
Dongying Kelin Machinery Co.,ltd is a lost-wax investment casting foundry with inhouse machining and stainless steel surface polishing. Established in 2004, Kelin, with his highly-adaptable processes, has served the investment casting demand of different market sectors internationally and domestically. For more information of our processes, please contact info@kelincast.com

DongYing KeLin Precision Machinery Co.,Ltd.    
Precision Casting, Precision Machining, Precision Polishing
No.12,Linqing Road,Shengli Industrial Zone, 257081,Dongying,Shandong Province, China
E-mail:info@kelincast.com
Web:www.kelincast.com
D: +86 (546) 7777668  | FAX: +86 (546) 7777618